Swipeclock for Developers
Connect timekeeping to payroll, HR, benefits administration, rewards, finance, and other applications.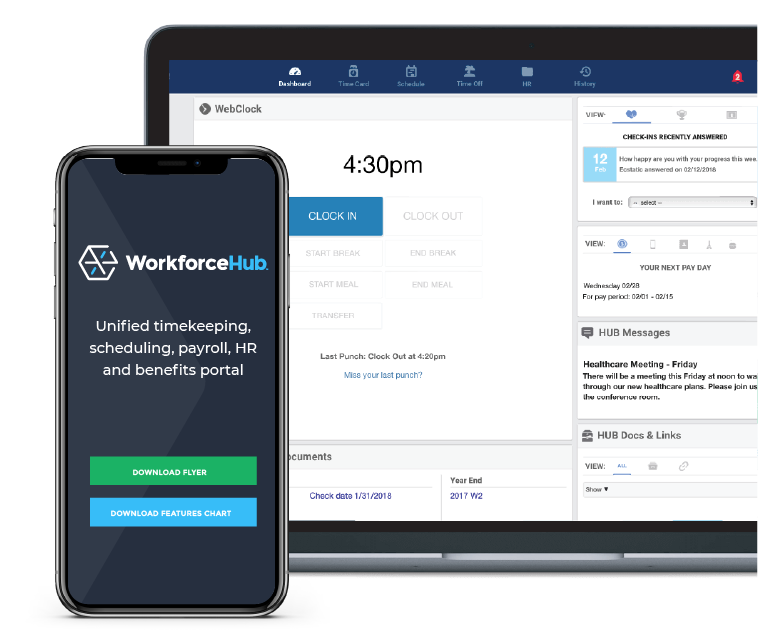 SwipeClock for Developers
WorkforceHUB supports integration options ranging from simple import/export file formats to fully embedded HR applications.
Not sure where to start?
Integrations can take different forms depending on who the solution targets and what you are integrating to (or from). Common starting points are:
Pre-built Integrations
Pre-built integrations exist for most major payroll platforms. Search our HUB Connect library of hundreds of export formats, pre-built TimeWorksPlus/payroll and HR service (WorkforceHUB) integrations here.
TimeWorksPlus can support the following with most major payroll platforms:
export

hours, pay, overtime, vacation, net pay and more

import

employee profile data (new hires and employee updates)

export/import

custom fields for site, company, job or other data
Custom Integrations
Build your own custom integration that:
synchronizes with SwipeClock timekeeping and HR services data
Use SwipeClock timekeeping and HR services data through your own user interfaces
Get details on the custom integrations page.
Pre-built Integrations
SwipeClock products integrate with many payroll platforms. Search by company or format name. Filter by type, function and integration level. SwipeClock products also supports import/export for most payroll platforms.


BambooHR is all-in-one HR software made for small and medium businesses and the people who work in them. BambooHR software makes it easy for HR professionals to collect, maintain, and analyze people data, improve the way they hire talent, onboard new employees, manage compensation, and develop their company culture. It's designed to set HR free to focus on what matters most—people.


For over 20 years, more than 5000 organizations have relied on Syntrio's knowledge, experience, and support to deliver eLearning training solutions to manage organizational risk, empower a winning company culture, and accelerate the performance of employees and the business.


Employee access to earned wages before payday. Everything handled including funding.
Employees with access to their wages on-demand are less vulnerable to late bill payments and overdraft fees. SwipeClock partners can enable employer and employee access through WorkforceHUB with automated deductions through payroll.


Rippling helps businesses manage every employee system — their Payroll, Benefits, Computers, Apps and more — all in one, modern platform.
Build Your Own Custom Integrations
Build your own custom integrations to SwipeClock timekeeping and HR services (e.g., integrate with your payroll platforms, employee portals). Integrations require a common company and employee ID between timekeeping and HR services.
There are two integration types:
Data Integration

– sharing or synchronizing employee, company, job, time and other data between two or more systems

User Interface Integration

– rendering data, activities or services from data integration to users for access in other systems